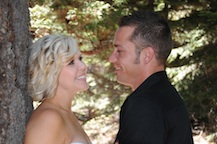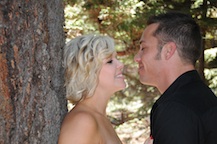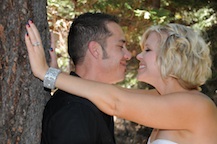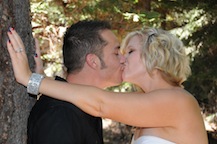 Wedding Location Suggestions...


Following, are a sampling of some of the small ceremonies where I have performed and taken pictures. I can marry you almost anywhere... you are not limited by the examples shown below. To allow the following slideshows to load quickly, I have added them to this webpage at a low resolution and they may now appear blurry on your computer. You will see every kind of wedding attire from very casual, comfortable clothes to very fancy gowns and tuxedos. Let your wedding reflect your style and personality. This is Tahoe, which means that whatever you choose to wear is exactly right! This is a celebration of your love and a new beginning for your life together. Let's plan a wedding that is both loving and fun to remember.

If you are not providing another photographer, I would like to take pictures so that you can share your memories of your Tahoe Wedding in the High Sierra Mountains. I am known for capturing warm moments with candid shots of families and friends enjoying each other as they spend some precious time with you.
A Beautiful Cliff and Forest Location Overlooking Lake Tahoe

More Cliff and Forest Pictures of this Location

With panoramic views of Lake Tahoe, you exchange vows on a cliff, 50-70 feet above the beach.
Imagine waves crashing against the shoreline while you say I DO! Very romantic!
Then we have fun as I take lots of pictures on the cliff, through the forest, strolling on the dock, and hand in hand along the beach.
This is an ideal wedding location for small weddings. (No climbing to reach location.)
Graham's at Squaw Valley
Year-round, this award-winning restaurant is a nice location for a cozy wedding
in front of their big stone fireplace, followed by a memorable dining experience.
This is an outstanding location for your wedding reception and rehearsal dinners. The food and service are amazing!
Grahams at Squaw Valley website.
Sailboat Wedding... get married on a Yacht
If you have ever wanted an exciting Wedding Experience. . .
cruise Lake Tahoe on the Tahoe Cruz. This beautiful 50' sailboat is incredible!
Two full hours of pleasure... with memories to last a lifetime! Capacity: 2 to 25 people.
A Winter Wonderland Wedding at the top of the tram at Squaw Valley USA
Jeff and Lisa enjoyed this outstanding location that offered their skiing and non-skiing guests
a fun ride and an awesome view that their guests will not soon forget! Lake Tahoe is seen in the background.
Many couples have their ceremonies in the privacy of a rented cabin or hotel room,
in front of a fireplace or somewhere outside on the property or beachfront.

Where would you like to have your wedding?


(530) 412-5436 (Cell Phone)
When leaving a message, please include area code


HOME | About Ann Poole Weddings | A Charming Lodging | Thank You's | Contact