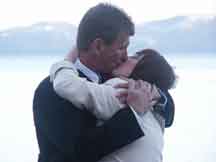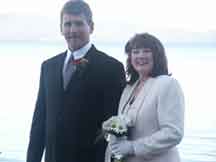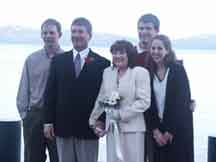 A quiet, simple wedding for Michael and Vicki... with joyous memories on a dock overlooking beautiful Lake Tahoe
Contact Information...

Please fill in the "Information/Availability Request Form" below to send me your name and PHONE NUMBERS with a "best time to reach you." Additional information should include: the date and time of day that you plan to marry, an approximate number of people attending and an idea of where you would like to be married.

I look forward to hearing about your wedding plans and will contact you soon. . .

Ann Poole
Wedding Minister/Officiant
Today you are dizzy with the astonishment of love.
You are surrounded by affection, tears of joy, smiles,
and the beauty of the Lake Tahoe area.
Yet, you enclose a silence when you are close to another.
Your eyes see only each other. You hear nothing but the words you speak to one another.
"With this ring, I thee wed, and join my life to yours."
This is your new beginning. Your great adventure has just begun.

(530) 412-5436 (Cell Phone)
When leaving a message, please include area code


HOME | About Ann Poole Weddings | Wedding Locations and Photography Samples | A Charming Lodging | Thank You's